Discussion Starter
·
#1
·
I put this on my facebook but decided to share here as well..... Velma is 9 years old and when we are gone she normally has the run of the house while Louise has the run of the finished basement and Harvard is crated. A couple of days ago I picked up my girls from swim practice and took them out to dinner (hubby was out of town).... so was gone for a couple of hours.
I forgot to close the pantry door.... this is what we found when we got home....
... Here is the culprit..... she doesn't look TOO guilty - LOL! She would not even look at me! I wish I could have been a fly on the wall to see how she did this!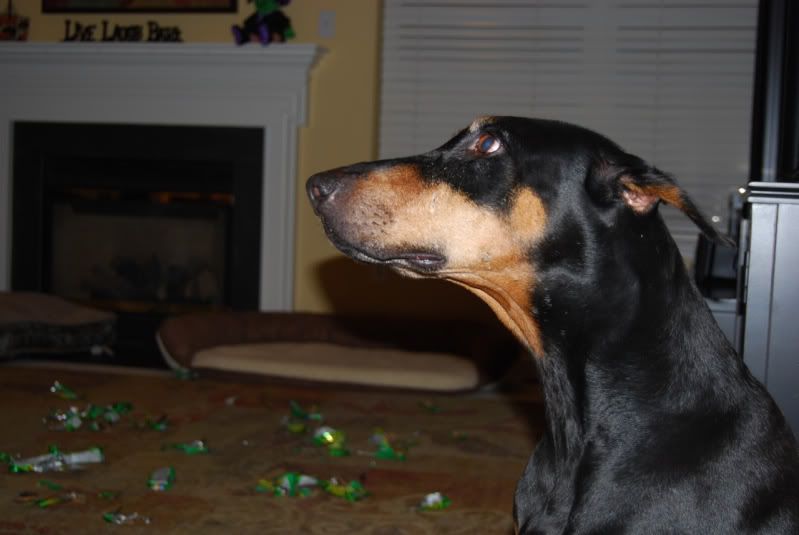 In the two hours I was gone, she stole at least 17 packages of nature valley granola bars out of a big costco box of them, took each package into the family room and ate them. Each pack has two granola bars - so she ate at least 34 granola bars! She did not eat one bit of packaging and the rest of the remaining packs were still neatly lined up in the box.
I am thankful that I had a gastropexy done when she was spayed so she could not torsion if she bloated. Other than the fact that she was very thirsty after all that fiber, she was fine. Called my vet and gave her a pepsid - he and I were both laughing on the phone.
Yesterday she pooped pure granola - It didn't even smell like poop! Today she is totally back to normal - gotta love her!