Discussion Starter
·
#1
·
Hello all!
I am now the proud and very happy owner of an almost 7 week old little girl dobe. My daughter has Luke, Leia's big brother.
There were 7 pups in the litter. Not a 'typical' BYB, but also not a 'breeder' either. This was her first and last litter. It was just much more involved than she was prepared for. It took a lot out of the mother dog. I think it kind of freaked the breeder out. She thought she wanted to become a breeder.. and all that entails.. however, she just doesn't have the resources to do that. She knocked off quite a bit of her asking price for the two pups we got.
The pups (litter) are healthy and active. The daddy dobe (hired stud) was brought over for us to see. He was just gorgeous.
I am amazed at how smart little Leia is! She is already following, for the most part, simple commands like "sit", "come" and "stay". We are making great strides in the biting-everything-problem too. I've just been using a firm "NO BITE" and gentle tap on the nose when she bites me or something else she shouldn't. Now, I usually just have to say "NO BITE" and she stops. She does complain at me though! LOL She's so funny!
We have not had one single accident in the house! Today, she learned how to go up and down the deck steps. Such a little trooper!
She and Sophie are getting along wonderfully! Sophie, for those that don't know, is my rescue Rat Terrier. Poor Sophie never had a chance to learn anything as a litter mate or from her mama. So, the play going on between Sophie and Leia is very puppy-like. Sophie is learning as much as Leia is. Sophie just turned 3. I think having Leia around is going to further pull Sophie out of her neurotic shell. Sophie IS being a bit clingy with me.. but, I am chalking that up to a little jealously.
Here are a few pics from tonight. This all happened in my lap!
I'll try to get some much better ones of Leia tomorrow.
:
Let's show those teeth now!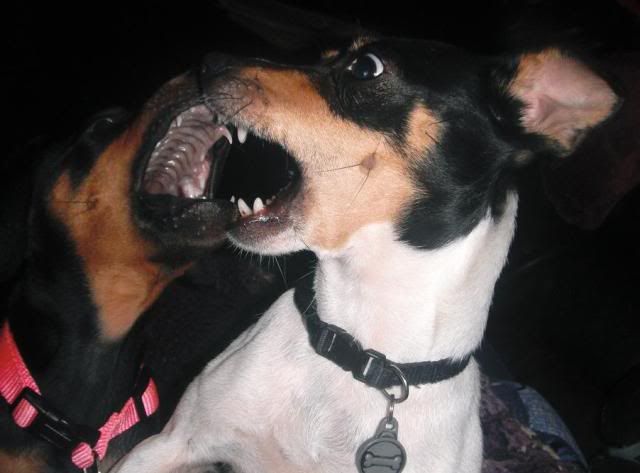 Where did she go??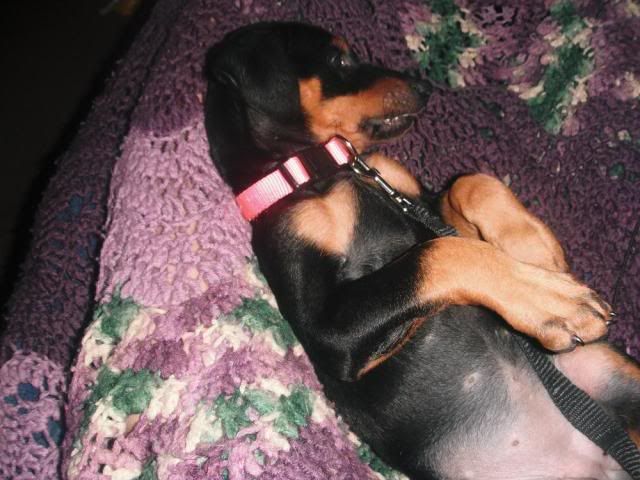 It's time for a nap anyway. Zzzzzzzz.