I haven't been on much, so wanted to get up a couple of pictures,
the first is Willow, Hausenbrook Chicago's Rainyday, shown by her dad/co-owner, his first dobe, use to breed and show goldens. She is a lovely girl who floats around the ring, only thing holding her back is she lost part of an ear tip as a pup fencing playing.
next is Rocket, now rehomed with a new name, Griffin, he is co-owned with me, registered as Hausenbrook's Songs about Rain. He is too skinny, was being very fussy about eating but his new mom has him on raw and he is finally starting to fill out.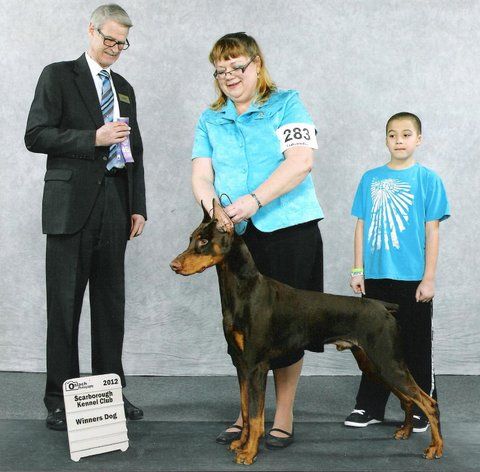 Theia will make her show ring debut in 2 weeks, see how that goes. Luna, my Bahama baby took 2 group 1 wins at their show in March, unfortunately the pictures taken weren't in a proper stack and she was needing weight on! Will try to get some of her, I've seen some great water shots on facebook.