Discussion Starter
·
#1
·
Today I took Duke in to get his ears checked and his cup replaced since he managed to take it off. Then about 5 minutes later another male Doberman came in and guess what? His name was Duke also. He was 3 months old but smaller then my Duke so the other owner and I were talking and trying to figure it out. Then another 5 minutes later another 4 month old male named Riley came in. Duke was the youngest Doberman there (Assuming the owner of the other Duke had the right info, I dont think he was too sure.) However my Due was in the middle size wise. It was fun to be there and hear about the similar personalities of the Dobes. I referred them all to this website. There was a lady talking smack about Dobermans as if we werent there. Everyone in the office was kinda like....whoa. She was saying how Dobes dont think they just act. How her friends grand daughter got bite and how German Shepards are so much better. She was out there. All the kids were petting our Dobes and the Dobes were calm etc...Everyone there usually loves Dobermans, this lady however needs some manners. Her dog was better behaved then her.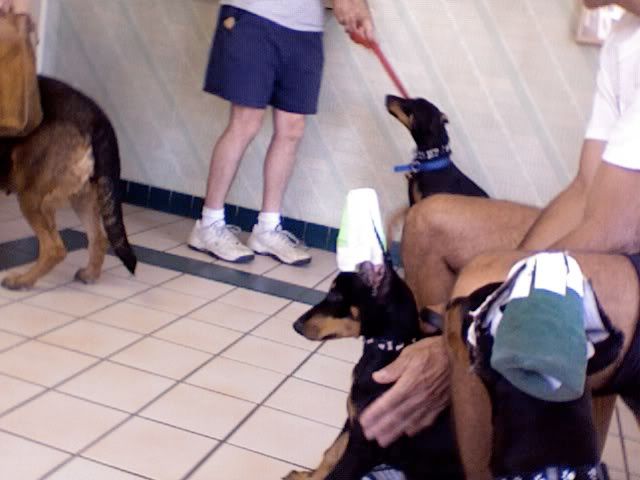 My Duke with the Dark Green, the cup wouldnt stay!
The other Duke with the light green and Riley in the background getting checked in.