Discussion Starter
·
#1
·
Recently I took on another foster who I was supposed to have for longer but was adopted after only 8 days. IDR got this girl from a shelter where someone gave her up, stating they were moving. She is about 2 1/2 and appeared to (somewhat) recently have had a litter. In February we took in two pups at 3 months old from the same shelter. Based on their looks and the time line we are pretty sure Tess is their mother.
So as you can imagine, these people were really committed owners....:rolleyesww: Anywho,
Tess is yet another wonderful example of a great companion in rescue
simply because people didn't want to take dog ownership seriously.
When I got her she was underweight and sick with kennel cough- which, although contributed to her weight loss was not solely responsible as she was skinny when turned in. She was a
super easy
foster. Tess is crate/ex-pen trained, doesn't pick up anything that is not designated for animals(this didn't however disclude the sack of cat nip) and did not attempt to get on any furniture even when left alone. I know because I checked frequently under the door when I let her nap 'loose' from her ex-pen. ZERO food or toy aggression. Super tolerant! Whether she got a paw stepped on, ear cleaning or removing stitches. Very sweet but not overly needy and loves to ram her head into your lap. She is not a bitchy female in size or in behavior. More easy going and smushy like a lot of males which is another reason I liked her so much.
Pretty good with my cats overall. She was terrific with Strike and of course he was a gracious host as always despite his exceptional laziness even with ample opportunites to wrestle.
Best of all she was totally housebroken! Not one accident.
And it is not as though I was taking her out every 3 hours.
She had a couple of vices. Minor things like whining when first left alone. Some shyness of men and sound sensitivity. Tess also needed some work on a leash but I was able to do a lot of it without a prong even after she started feeling better. Another funny thing was her disbelief in the word 'sit'; in her mind, it means walk in 2-3 circles and if human is still waiting for you to do something then lay down.
But overall she was just a wonderful dog. In a different situation I
might
have considered keeping her. She is not a purebred but both in looks and temperament she,
by far
, favors the doberman side of her genepool. And yes, Tess is a melanistic blue.
A lot of the pics are similar but it was either 'automatic lie down' Tess or 'nose poke/break camera' Tess. I prefer the prior when using my good camera.
Night I got her, feeling tired and boogery.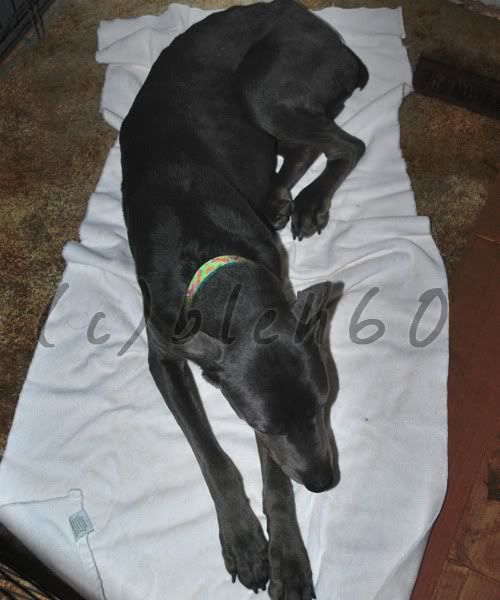 Still so sleepy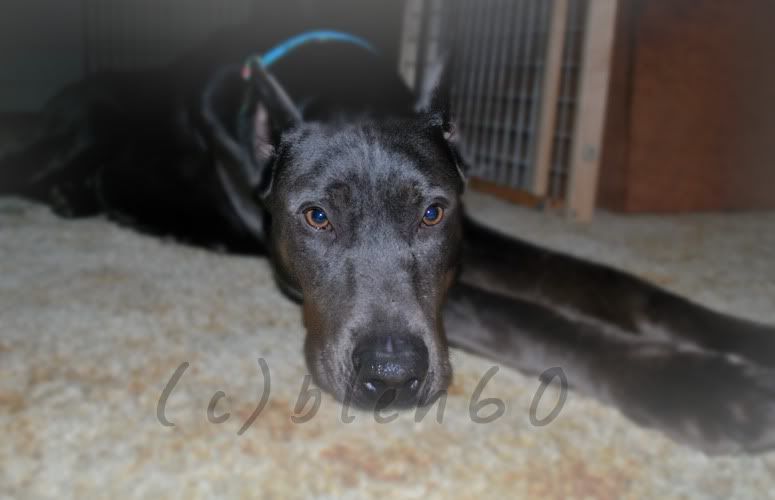 Looking very dober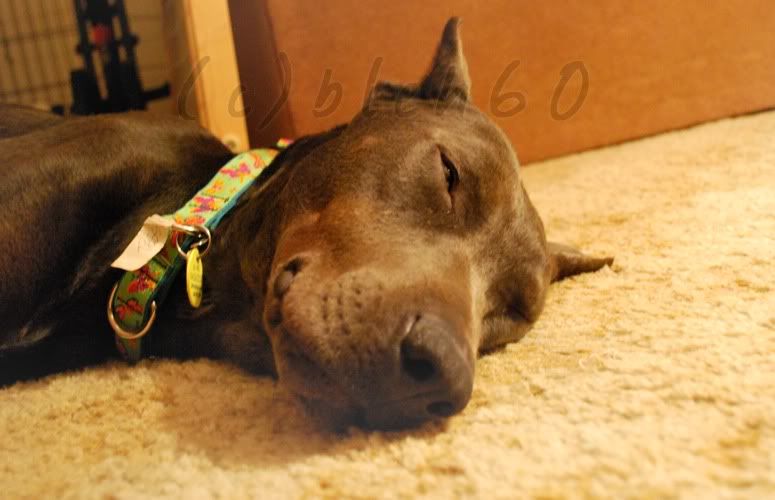 Showing a little of the Dane side of her family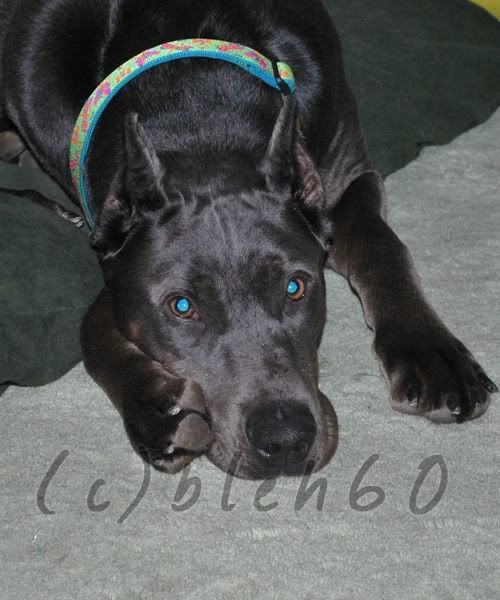 Ah, feeling better now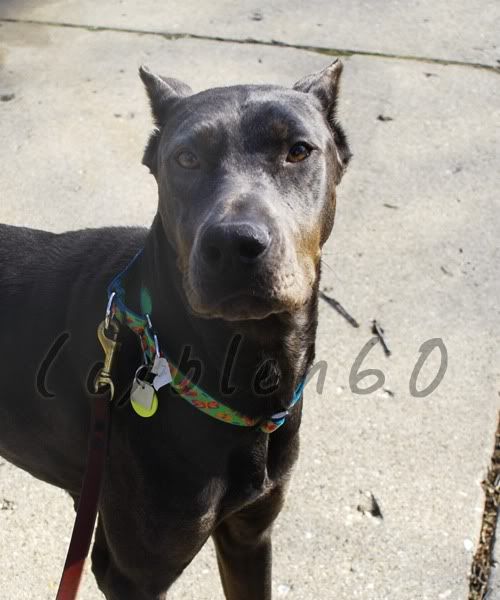 Which dog is a bigger bum???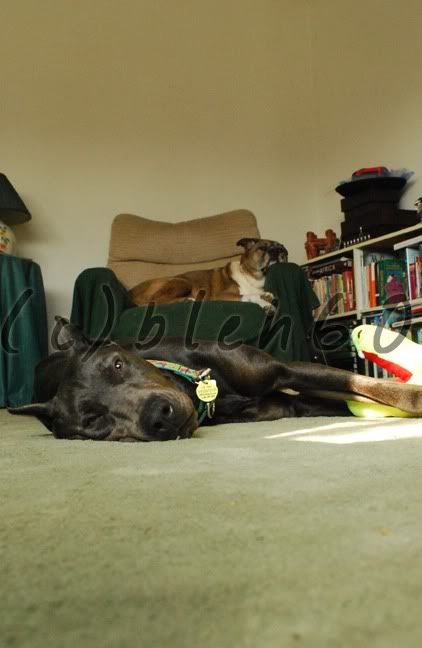 Arg,
MY monkeyball!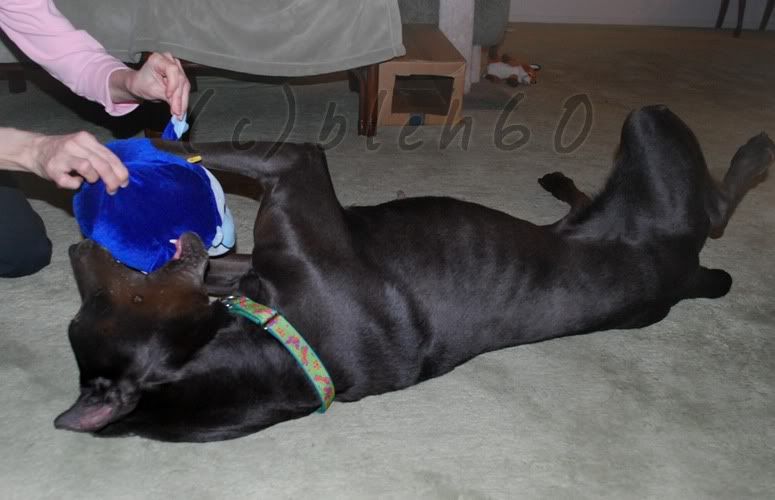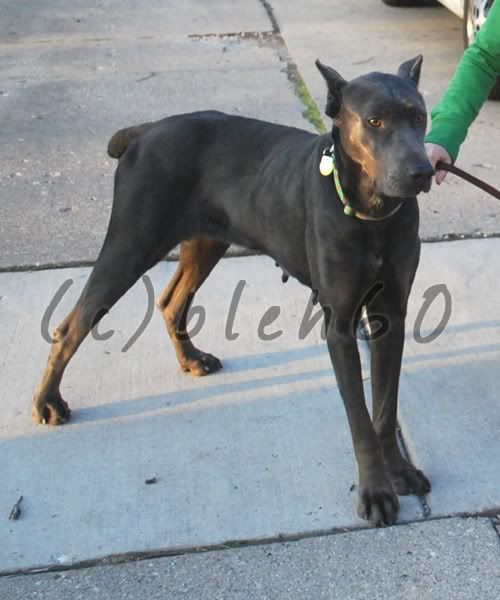 It has been a good week