Discussion Starter
·
#1
·
I only drove down for the two dobe specialties, skipped the two all breed shows over the weekend. But the weather was beautiful (high 70's), this time i remembered sunscreen, so *didn't* get burned to a crisp, and overall had a great time!
These are the first shows of the calendar year in CA, and usually have the largest entries of any of our specialties...I think the entry this year was 64 each day, something like that. A fraction of what the entry *used to be*, back in the day, but large by today's standards.
We were as pleased as we could be that Connor's son, Brody, Ch. Gallants First and Foremost v Ciden won the Los Angeles DPC specialty on Thursday. Then he went BOB yesterday at one of the all breeds, so that's a whole bunch of top twenty points for him!
Ch. Caryola's Antigua won the two other BOB wins possible for the weekend, one specialty and one all breed show.
Anyway, I pretty much only took pictures of dogs that were sired by Connor, I didn't have a lot of charge left in my camera battery.
Here are some of Brody: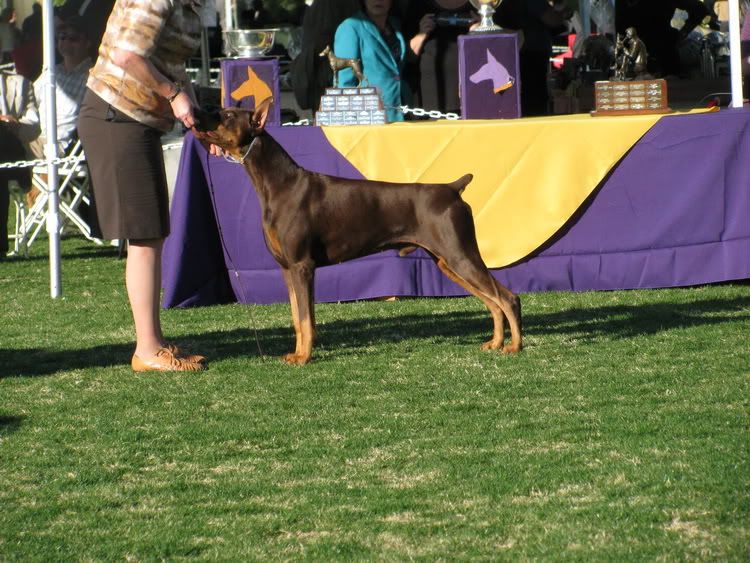 Beautiful Olivia, Foxfire's Whataya Want From Me-Connor x Ch. Foxfire's All About Me:
This is a youngster who's just getting started, needs to grow up a bit, Gallant's Savannah Brees v Ciden-Connor x Ch. Gallants Best Kept Secret v Ciden: