Discussion Starter
·
#1
·
Sorry all. I have been off the board for a while. I changed jobs (took a layoff from my prior job to start consulting in the same field), so things have been busy.
I have continued to train Miss Pula in agility and nose work, and she is about to trial for her nose work level 1 title next month (May 20).
I am waiting to see if we can get some confirmation of ovarian remnant syndrome, as she recently, right on schedule, began her "hormonal" behaviors (spooky, moody, bitchy, extra cuddly, etc). Hope this time we find something, so that both of us can enjoy her non-hormonal self, which has gotten so much better as she is maturing and gets consistent training.
I thought I'd link a vide of her and my other dog, Spree, the sheltie, playing in my back yard. They run like nut cases behind the plants and along the path.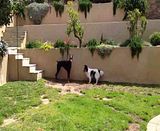 Hope to have more news soon!
Thanks for watching.
Lisa