Discussion Starter
·
#1
·
Odin is 11 weeks old today and he is doing awesome! I couldn't have gotten a better pup. He only whined the first couple of nights and it was only for about 5 minutes. He walks in and out of his crate like nothing, and does pretty well when left on his own. I haven't left him on his own for no more than 20 min, I will be working on making it longer and longer on how long I leave on his own.
I take him to work and he does awesome, greets all the clients but doesn't over whelm them with any type of jumping or licking. I couldn't ask to have a better boss that would allow me to bring him to work lol he almost demands that I do.
He has already started protecting the place, barking at noises outside the door. He has been growling at dogs so I am correcting that by having him sit and wait until the dogs go by him. It seems like the other dogs intimidate him a little bit because most of the time the other dog is too excited when they try to greet him. With the other dogs that come up to him in a more calm matter he is fine.
We are already able to walk pretty darn fine on the leash, we walk about 10 blocks all together, he knows how to sit, and leave it. We are working on stand, and come and potty training.
I haven't run into anybody yet that is appalled by the fact that his ears are cropped. They just ask why I did it, and I tell them that I got him from a ethical breeder and that she did it. So they have all been open ears about it so I tell them.
Number one comment is "WHAT BIG FEET YOU HAVE"! By the size of those feet it looks like your going to become a big boy. LOL aside from that they see the quality in him and always comments what a nice looking dog he is and then comment on how well behaved he is.
I had to by a special bowl for him to slow him down because he wolfs down his meals in milliseconds.
and now some pics : )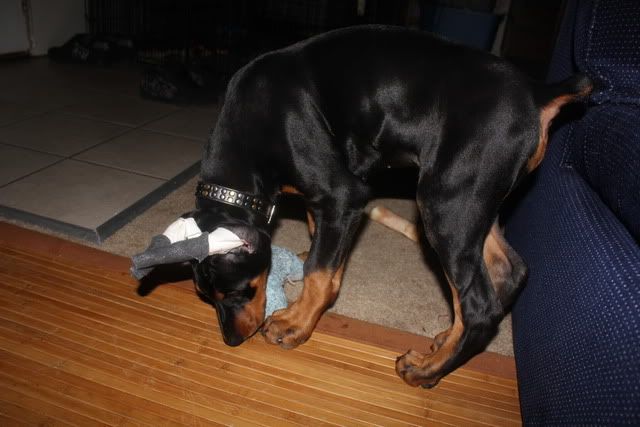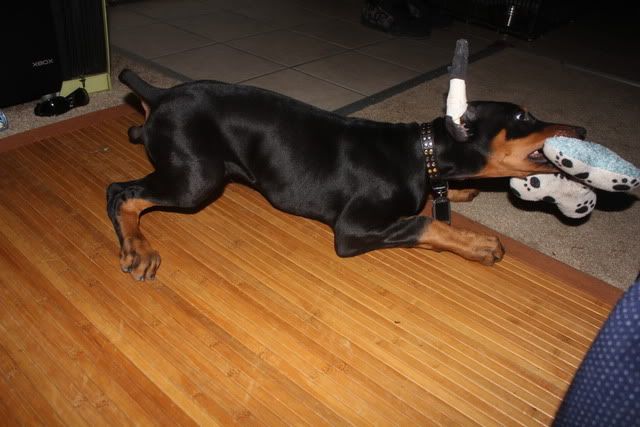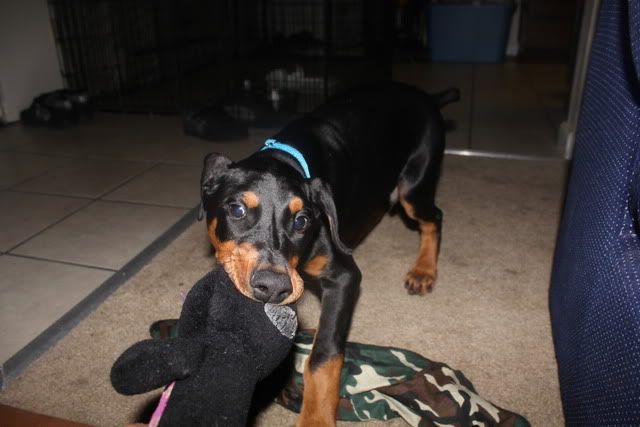 hmm what in here?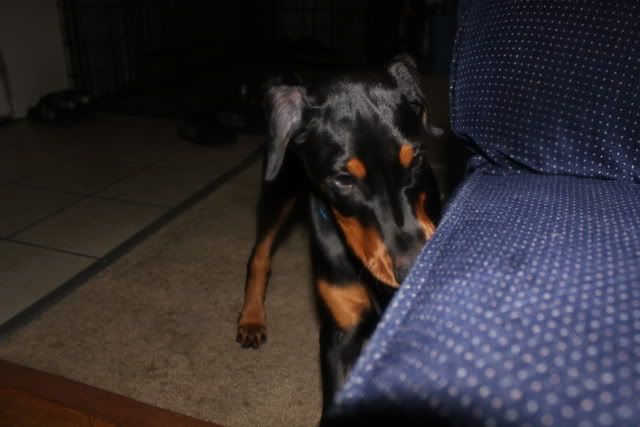 Lets tear it open and find out