Discussion Starter
·
#1
·
I'm excited to share that Alfred finished this weekend, on his home turf, at the Vancouver Kennel Club show
Alfred was handled entirely (and very patiently) by his breeder/co-owner, Faye Strauss. He finished in 15 "days" of shows, with 3 majors (3-, 4-, and 5-points each), two out of the puppy classes (and one at six months!). Faye was nothing but encouraging and supportive, which could NOT have been easy when I showed up ringside at Rose City with an excited, energetic, and entirely untrained Alf!!
Alfie just hit sixteen months and is the first to finish out of the
Jet x Tosca litter
. Four other puppies in this litter are currently AKC pointed. So the only downside is that his show name is even more of a mouthful now ... Ch Sherluck North By Northwest v Olympic Cove!
I want to especially thank this forum, since I came on here
before
entering into this arrangement, and asked for guidance as to whether it was a good decision (not knowing Faye and Gary at all, or anything about dog showing!). The feedback I got was all positive, which is why I did it. I haven't once regretted it. So thank you, DT!!
Look for a brag ad in either the Nov/Dec DD (if I can get my act together) or the Jan/Feb issue. Alfie will now be taking some time off to finish growing up, chill out, and get his health testing done, but the "working plan" for now is to bring him back as a special in the future ... he was so ridiculously easy to finish that there are high hopes for this little dude.
So no win pic yet, but here's the little man hanging out at home last week (iPhone photo, sorry) - told you he has some growing up left to do!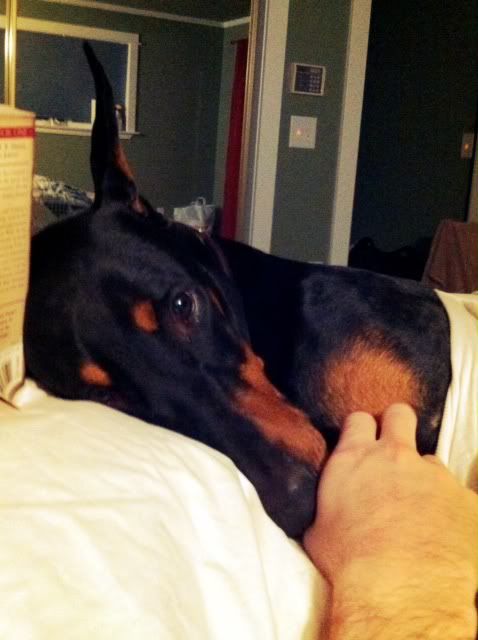 Thanks for reading