Discussion Starter
·
#1
·
Well as some of you may remember I recently became a volunteer for Il dobe rescue to transport dogs. Well on tuesday it was my first transport and lets just say it turned out to be more then I bargained for(puting it lightly). I will keep this as short as possible! The dobermans name was Amos and he was needing transport from one animal hospital to another. It was quite a long drive but I agreed to do it just to get my feet wet and help out. I left early to avoid lunch rush hour, and as I was heading out on the highway and of course something had to go wrong. The low coolant light came on and I thought WTH cuz my dad had just put more coolant in that morning. Well I had to get off the highway and I just didn't quite know where I was other then what town. So I called my mom, she figured it out and I had to wait there in parking lot at bennigans for my mom to bring me a different car. That was after she got dirrections and filled it with gas of course. So I finally got back on the highway(which turned out to be a bad idea) and I got stuck in a WHOLE lotta traffic not to mention all the road work being done. I swear half the time I was driving there was something being worked on! Talk about slow. I looked at the clock and started freaking out because I didn't think I would have time to get to drop him off at the other hospital. I called my mom trying to figure out where exactly I was and how far... and to keep things short lets just say she kind of gave me wrong directions. I called the IDR volunteer I had been in contact with. I felt SOOO bad and I told her I could come back tomorrow or bring him home for the night or whatever. So yea... long story short I brought him home. He was a good boy for the car ride and quite the sweet heart. We had to keep him away from the cats and dog as he wasn't tested with other animals and he had been sick anyways. I know what you are all probably thinking, believe me I won't be transporting any more sick dogs.
I stayed with Amos over night and literally only left his side for like half an hour at most and then he was with my mom so he was hardly ever alone. He stuck to me like glue. He is a tall black boy with natural ears and a docked tail, he even has dew claws. He was big but very emaciated(when I fed him he inhaled his food). The doctor told me he actually gained a lot of weight already but he still a lot to go as you will see. Amos didn't know his name and didnt really have any manners at all. He pulled on the leashed didnt know how to sit still or even sit for that matter! (but I did teach him to sit!) He was a typical doberman. He bumped his big nose in my face about 50 times and put his head in my lap whenever he could. Despite how weak he might have looked, he was full of energy I could not tire him. I took him for a LOONG run and he still wasn't tired! It was nice having a dobe for a while. My mom got more attached to him then I expected and she wasn't with him half the time I was! She really wanted to keep him, and if we didn't have Strike she would have. The next morning we took him and dropped him off at the other clinic. I hope he gets well and he gets a good home with someone willing to take him to some obedience classes and give him the time he needs.
Sorry that was so long but I made sure to take some pictures when I got home cuz I know how much you all like pictures. I cropped myself out though, of course.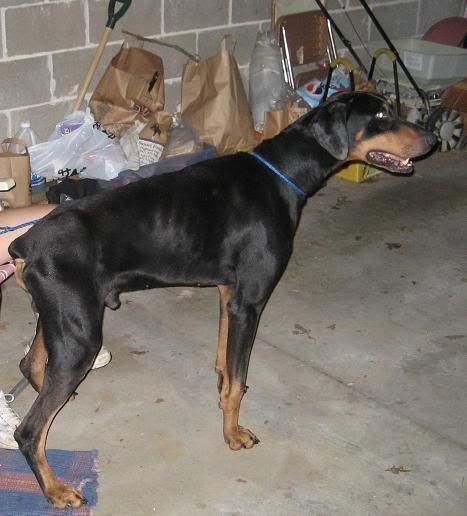 Here I am!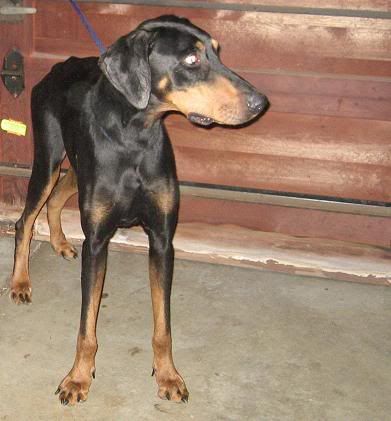 Whats over there?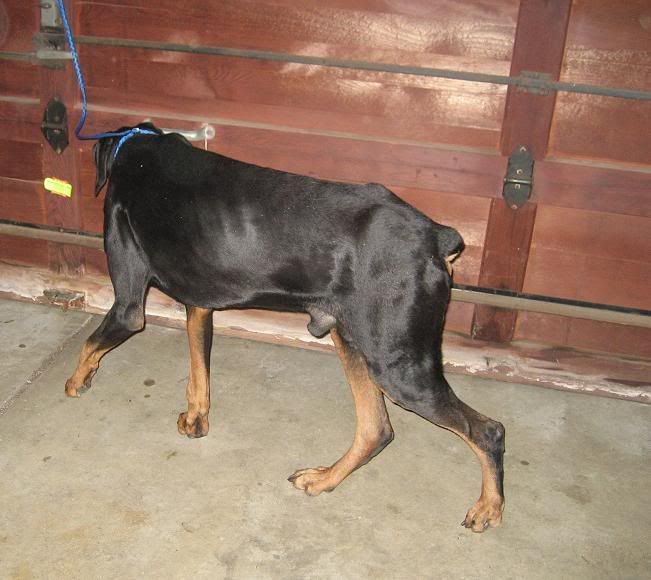 see how skinny I am?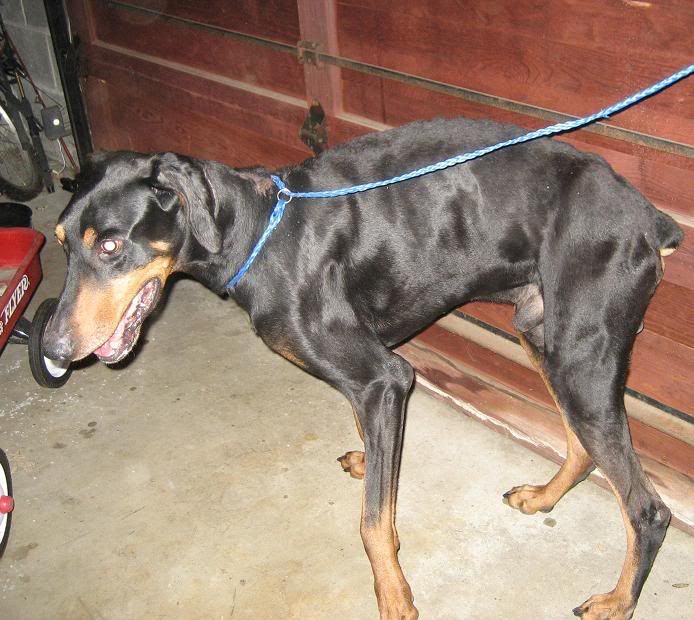 You could see his whole spin.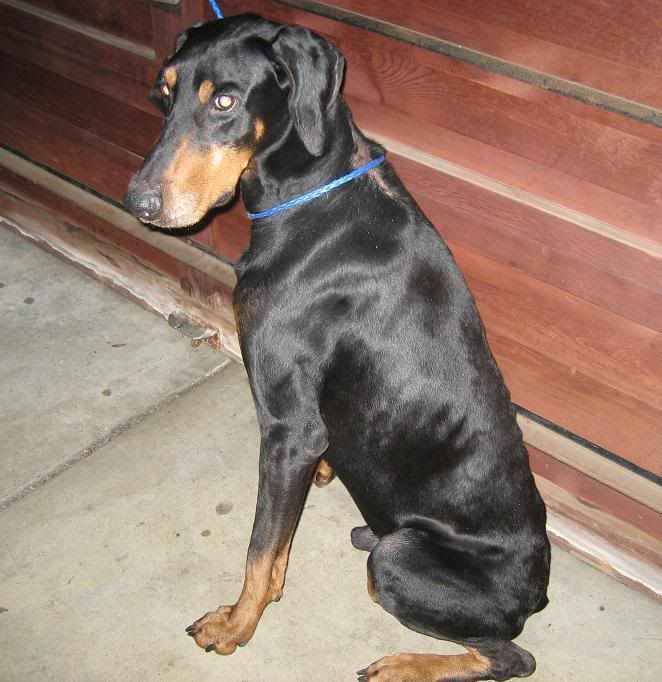 he's actually sitting for a second.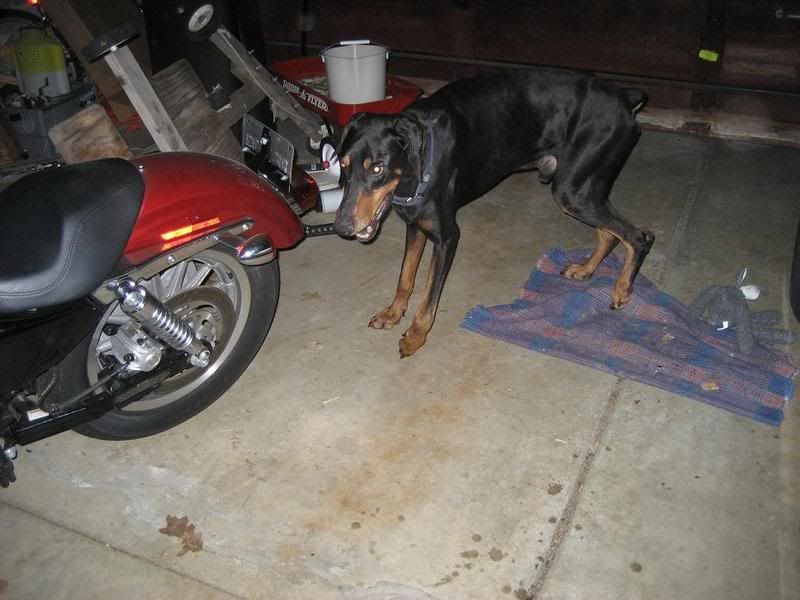 I am free, I am free!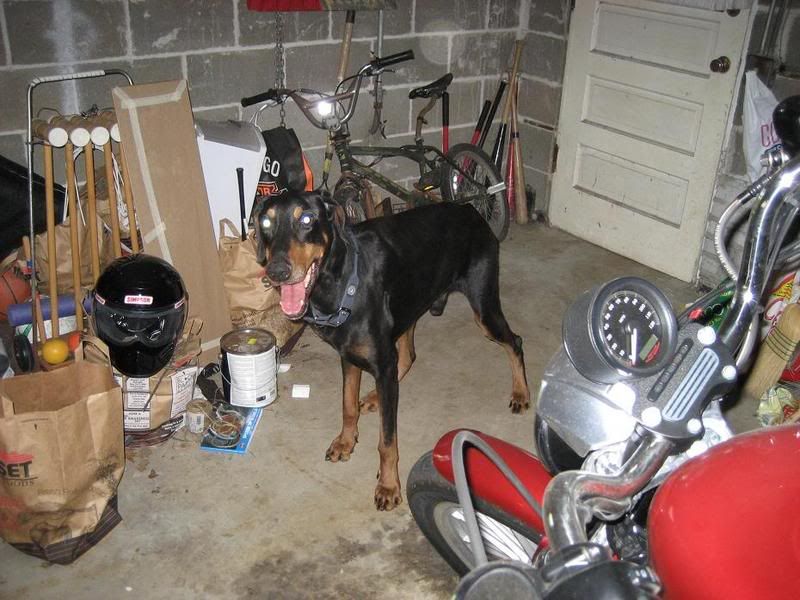 I am over here!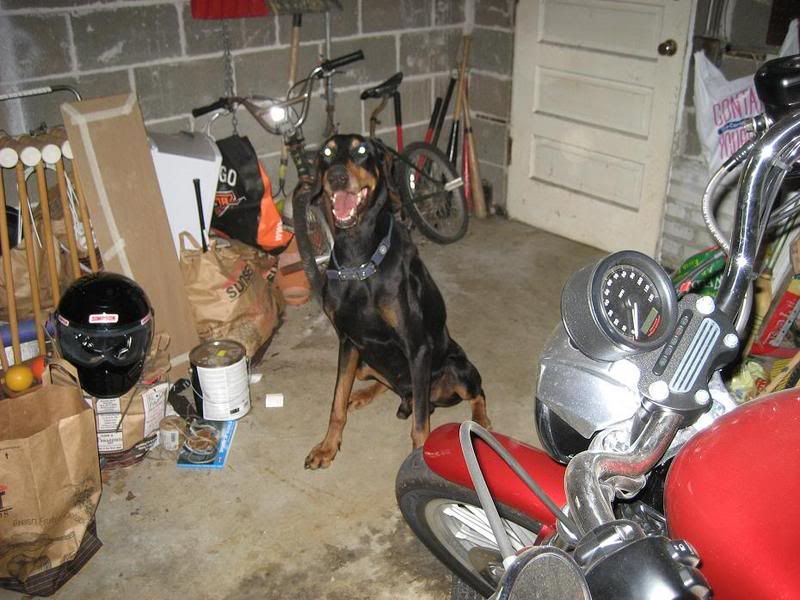 and I am sitting!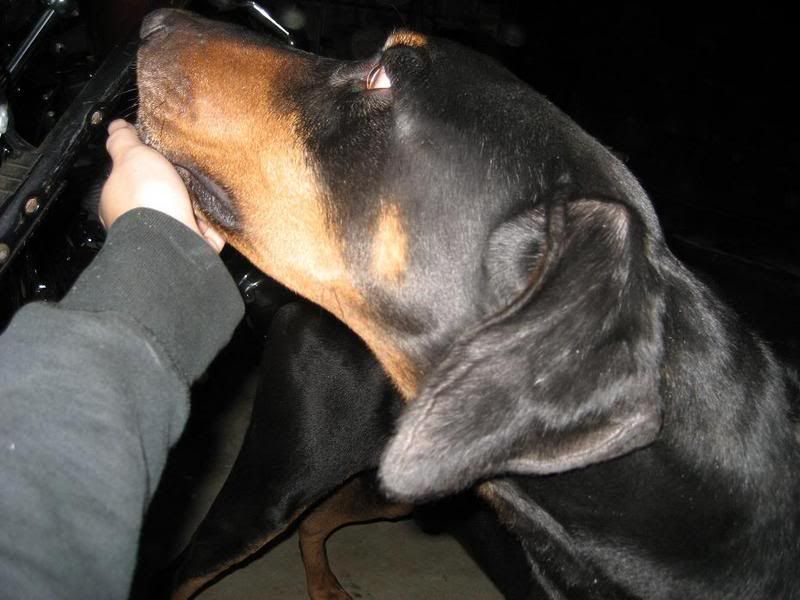 my pretty face.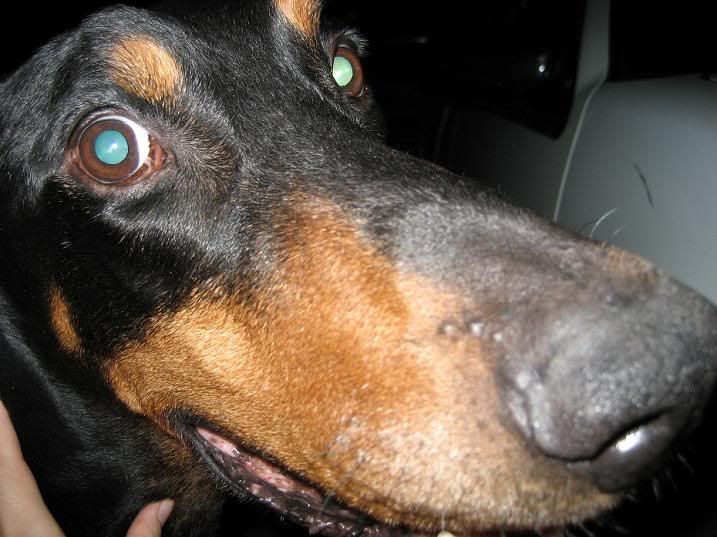 .....BOO!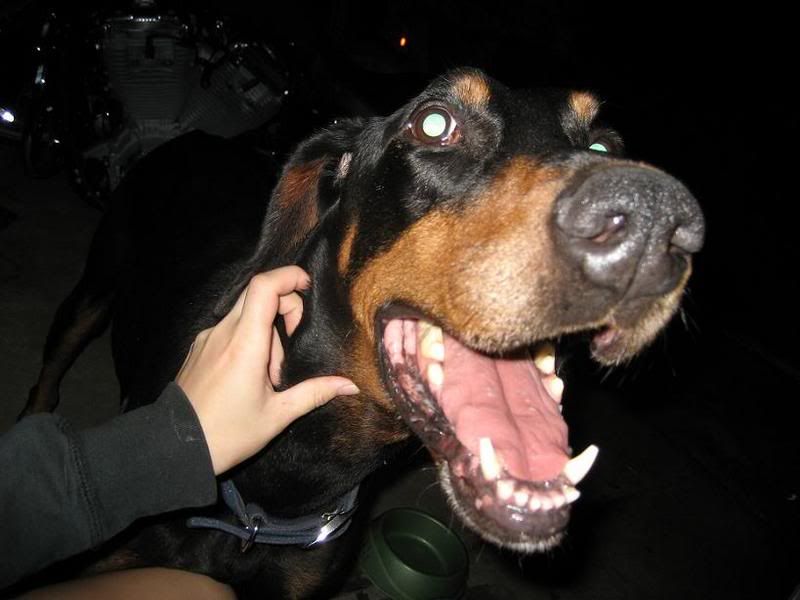 "HI!"
If i was cropped