Discussion Starter
·
#1
·
I've been working with Mensa for the last three weeks trying to get her to walk on a leash. For the most part she refuses. Off-leash she will follow me anywhere I go. On-leash she gets stubborn. She sits down and won't move. Not at all. Here is what she looks like when she is on a leash: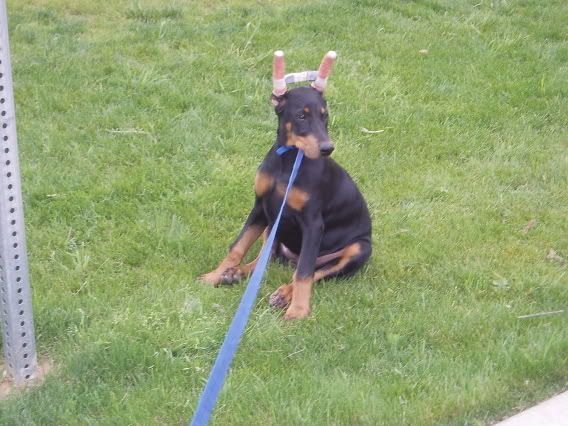 I've tried bribing her with treats, but she's starting to wise up to that trick. I've tried taking the other dogs with us to show her a good example. The only thing that gets her to move is dropping the leash and walking away.
Today I think she may have had a breakthrough-moment. I had her on the long 20' (6m) leash so I could walk further away from her and still have a hold of the leash. Normally when I pull on the leash trying to get her to follow me, she just sits tight and screams. Today I decided not to listen to her complaints. When she refused to come along, I pulled her along, kicking and screaming, until she got up off her butt and walked with me. She tested me a few more times, but I didn't let her sit and remain seated when we were supposed to be walking. She got to the point where all she needed was a light tug on the leash to get her to come along.
I don't want to declare victory yet, I'll have to see how she does tomorrow, but she may have gotten it. I hope so. The other dogs go absolutely nuts when they see a leash.
Does anyone have any advice to help things along? Have you had experiences like this? What worked for you?