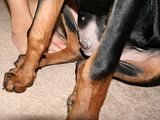 So I took Damon to get the sutures removed from his ears today, and the vet that did the removal asked me what I was feeding him. I told him Taste of the Wild Puppy large breed formula and he told me to stop feeding that to him. He then pointed to the knots on Damon's front legs (see pic) and said the food was causing these and it was causing Damon to grow too fast, which is a bad thing. He then told me to switch him to a brand like Purina, Science Diet or Iams.
Now...I did a lot of research on foods before I started feeding and although Purina isn't the worst, it also isn't the best due to the ingredients and the Iams got less than stellar reviews. However, the TOTW, along with Orijens, were always highly rated.
Are those knots something to be worried about? Is the vet correct?