My hubby and I were reposting Red's ears just now and trying to cut the old posts off, and my hubby wasn't exactly holding Red's head very well, and even using safety bandage scissors, I nicked the edge of Red's ear! It was right where the skin on the medial part of the pinna was folded over and the scissors got in the fold. He yelped but doesn't seem any worse for wear afterwards, but I feel HORRIBLE!!!
I cleaned it with betadine and applied some triple abx ointment while the ears are drying out after cleaning like normal, but I'm still going to repost because I don't want the ears to drop at all, but just not put tape over that part of the ear so I can clean the cut and keep an eye on it. Is this the right thing to do?
It's not huge or deep, it's just a little flap, but I'm afraid it's going to screw everything up and the ear will be messed up won't stand right. Am I overreacting?? Did I just completely mess everything up?? And I worrying for nothing? Is his ear going to be damaged forever now?? Please help!!
Here's some pics so you can assess the damage...
Look on the left ear, on the medial part, you can see a little red spot.
Here is closer up.
Sensitive content, not recommended for those under 18
Show Content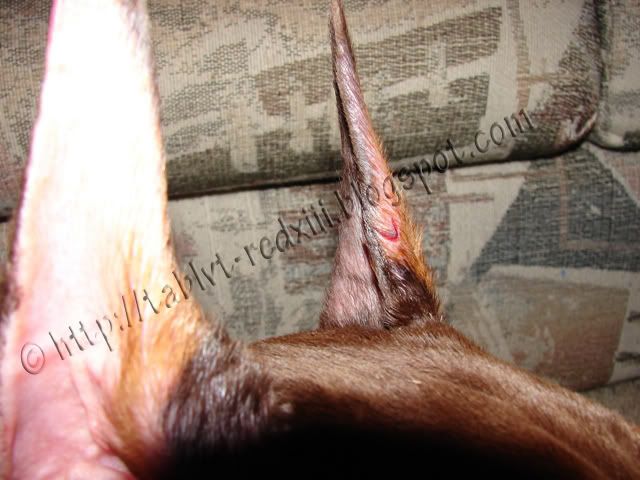 :help_up_2