After reading the schutzhund topic I decided to start a other one, couse when I put it there its off topic.
Lets go back in history, more then hundred years ago you could meet in the wide and shelving fields of Thuringen (Germany) sharp black and tan guard dogs. They were also used as police dogs but also for herding cattle and even sometimes for hunting. A men called Frederic Louis Doberman bred most of them. He collected taxes from defaulters, he was not popular so he took a guard dog with him for protection, especially when he was carrying large sums of money. He also new what he wanted a guard dog with a strong mouth, a good nose, courage, hardness and a higly developed protective instinct. It can be seen that Herr Dobermann was more concerned initially with the character of the dog.
To appreciated the breed now we need to know as much as possible about his origin and development. Herr Dobermann did not have a clearly defined breeding program. He did not keep any records of crosses that he did.
Out of the respect for all the work done by Mr dobermann it was clear to Mr Goller that the name of the dobermann connected with the breed forever. In Germany at that time there were only hunting dogs, shepherd dogs, butchers dogs, butcher dogs and pinschers and therefore it was decided the new breed should be called the Dobermann Pinscher, Why he choose the name is unclear because it is very doubtful that the dobermann descended from a pinscher.
Until so far, this book is been written by our chairman off the ducht dobermannclub called D.V.I.N. it's a very interesting book it describes the history of the dobermann.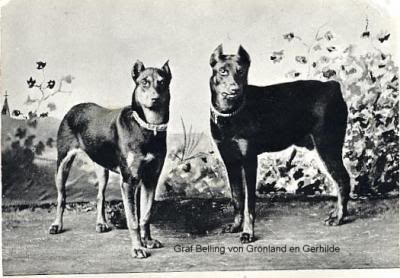 As we know is the dobermann a guard dog, bred to working in what way it doesn't matter.
When I read the discussion, I wonder why people can not have the interest in someone else is doing, the forum must be one to listen to other story's respect each other opinions. I might say that I have much experience with the breed, and I also know I am not the only one, there are more people who are working and breeding with the dobermann for 25 30 years. I also learn everyday from everyone with a lot of experience, but also from non experienced people. Over the years we trained so much owners with their dobes and I saw a lot of different dogs when you speak about the character, I saw dogs who are to afraid to touch and more, and not only from working lines, you can not blame the dog for his behavior, most of the time the owner is responsible not always but that's what I notice over the years.
Put 10 breeders together, and they have all different goals and different opinions how the dog should be! They all think they are right, and no one is!
Lets be honest and see what a diversity there is this wonderful creatures. You can do almost everything you wanted, obedience, agility , IPO, KNPV, monidioring, and even do nothing and cuddling and companion.
Yes my dogs are from European lines, why? Because I live here. I can not judge for American ones but there will be nice ones as well no doubt. I must say don't forget the dobermann is created in Europe!
The fairytale that a working dog is very nervous, come and take a look I have 5 working dogs in the house, I lived in a small community with neighbours on each site. I never hear them complain. An other issue is when the puppy leave the breeder the real life begun, and its to the new owner to make something of it.
And comes to an other point that is what I really worried about, the people who buy a puppy from a puppy brooker, I see it over here they coming in from eastern Europe they say there 8 weeks but in fact there really 4 or 5 weeks. The people like to buy it because they are cheap and cropped. That's more a problem and a threat to the breed. Btw for a lot of breeds.
Once again I wrote this not personally just how I look at it, I like your forum and we have to try to understand each other, not to judge each other, when we learn to listen and watch we can learn from each other. Cause we share all those wonderful dogs called the Dobermann