Discussion Starter
·
#1
·
Just wanted to say hello to the forum. I've been a lurker (guilty) for some time now and I have to say this forum help me SO MUCH in deciding whether a Doberman was the right dog for me. Thankfully it was.
Before I introduce myself. I just want to say that I owned Doberman before this one. Her life was cut short because of a crazed driver. I miss her every day because she was such a ball of energy.
Her name was Ziggy and she was the best thing that ever happened to me. I will never forget her. <3
Don't want to leave you all on a sad note. So I'll introduce myself now. I'm Stef and this is my baby Bailey.
She was around 8 weeks when I got her...
Now she's a healthy 17 week old pup.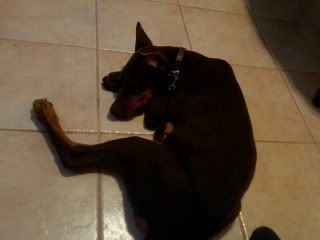 She is a PAIN in the butt haha but I love her to death and I just know Ziggy and her would have been the best of friends.
Hope this wasn't too long of an intro. I'm glad I finally registered. Nice to meet you all.