Have I ever told all of you how much Gracie loves sticks? Did I ever tell you how good she is with kids? My neice is over today and Gracie is being so awesome with her. My neice sometimes doesn't think before she acts so she has been told atleast a dozen times to leave Gracie alone. If she is doing something to Gracie like holding her mouth shut she is told to stop and what does Gracie do? She licks her face over and over again. Paybacks are a..... We were outside at one point and Starr (my neice) went to throw a stick for Gracie except her aim is off and hit Gracie's side. Gracie just grabbed her stick and came running back waiting for more. I would also like to say, please don't mind our nice brown grass. We have been working on making it nice and green but this year the stuff we put down hasn't helped yet. On with the pictures now that I made you wait.
I will do the older ones first...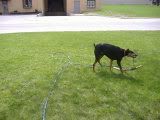 I remember when I took this one. As she bent down to get the stick you heard a little air come out from her rear. I was laughing so hard at her.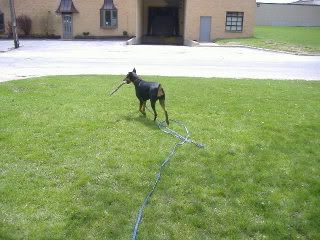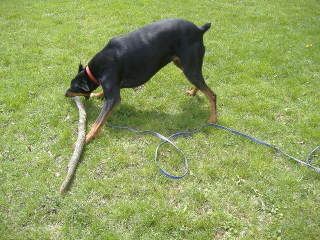 More in next post