·
Owned by Dobes since 1975
Discussion Starter
·
#1
·
Well, it has been 5 days and no livestock has been killed, nothing in my cabin has been destroyed, but I just know this dog is waiting for the time when I am not paying attention to him.......................
and as i was 'warned' about all that he can and has done..if he does do anything it will be my fault..............
In past homes he has..................destroyed....curtains, window frames, door frames, door knobs, blankets, pillows, floors, walls, carpet, lino, hardwood, tables, chairs and so on.
He has a VERY HIGH prey drive, he will chase cats, birds, etc. and if he is in the house, he runs madly about, barking, whining if he sees anything move outside.............
He has gotten out of every make of crate know to man...........he does not just pop crate doors off, he breaks them at the welds and squeezes out. he even chewed enough of a hole in a solid metal crate wall to escape!
Yet if the crate is left with the door open he will go and lay in it, just do not try to close the door.
When his second owners got him at 6 months of age they said he already suffered from seperation anxiety, real bad anxiety too.
I believe them.
If i just go through one gate into another yard and tell him to wait, he gets a freaked look in his eyes and starts running madly up and down the fence yelling at me.
BUT, after only a few days here with me i see an improvement in may of his 'reactions', he will now wait at the gate for me, I can stop him from running around the house barking at things that move outside and he will relax, but it will be a long time before those reactive habits settle into the back of his brain and will be only a distant memory for him.
He eats like a horse but is thin, his past owner said he has always been thin, their Vet said probably because he is so hyper active.
I have no idea why he was never neutered, it would have solved a lot of the issues his past owners have had with him, so in a week or so he will be going in to be neutered and after a month or so I expect he will settle down even more and start putting on weight. But I will have to discuss how we are going to handle the neutering as Charlie will freak if put in a kennel, I think I will see if I can just bring him in right before his surgery and stay with him till they are ready to prepare him for surgery.
Well, I must say Charlie has given me so much to do it will keep my mind and body busy just trying to out think and out smart him.
Here are a few pictures of Charlies first hike!
Pearl teaching him how to navigate the 'trail'.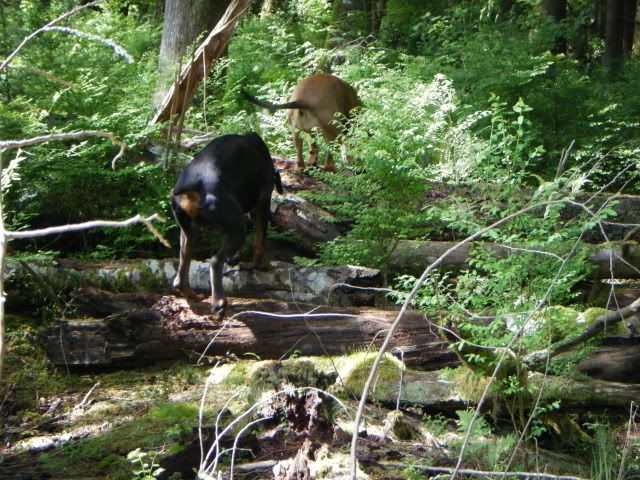 Charlie on my mushroom trail.........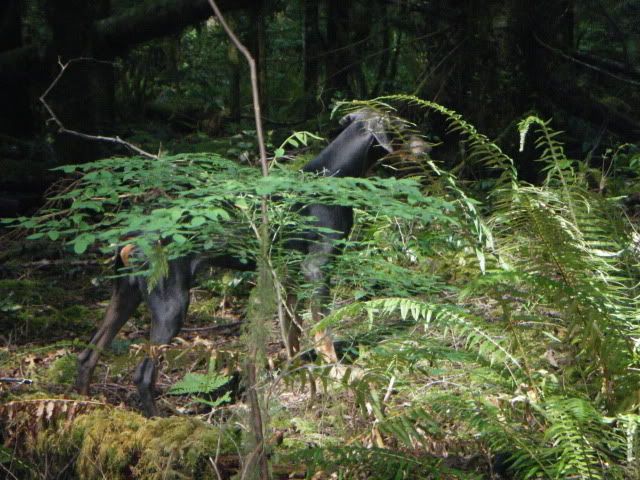 Pearl and Charlie checking out a scent..........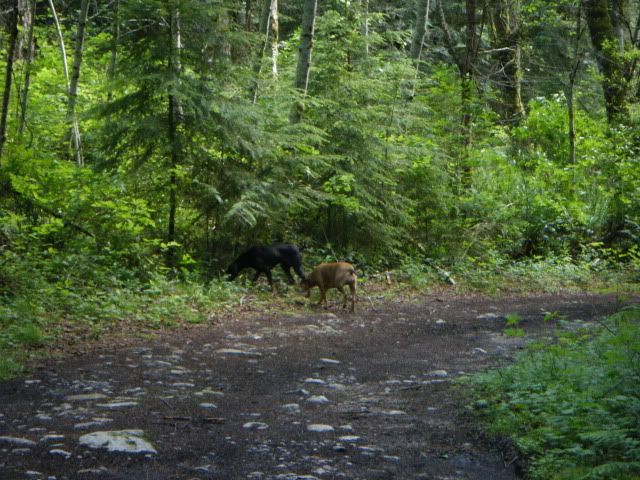 Charlie and Pearl heading down the 'driveway'.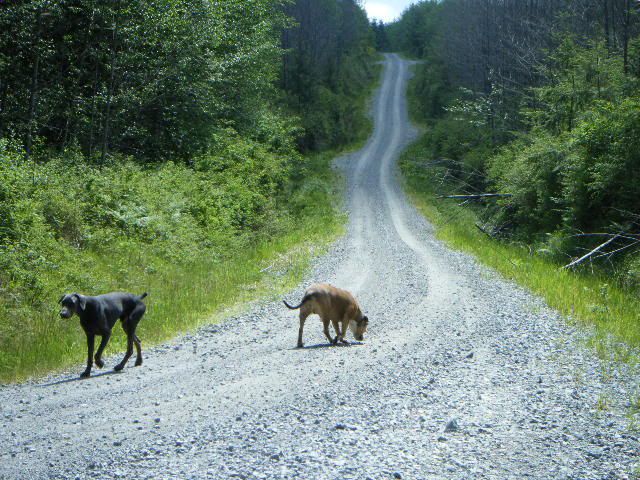 Charlie LOVES going into the bush, he will be a great mushroom dog!