Hairy Dog, RIP Caesar, Katana, Kip, Capri
Remember this?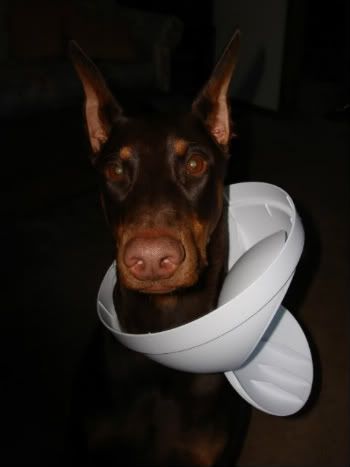 Remember the white wastepaper bucket with the lid that Capri kept sticking her head into, or knocking over? The same one that she got her head stuck in? Well, she still messes with it.
DH suggested we tape the lid to the bottom so she couldn't knock it off. So I did.
A bit later, we hear banging and thumping coming from our bedroom and……there she is……..with her head stuck in the whole thing, lid around her neck, the bottom covering her head, banging into the bed and floor trying to get the thing off.
I wish I had taken a picture.
But I thought she needed to be rescued from her distress. She was delighted to get it off and danced and wiggled her way around the room for quite a while. Being stuck definitely made an impression on her.
Now we get to see if she learned anything from her experience.