Discussion Starter
·
#1
·
Lucy and I had a really busy but fun weekend. Had a couple puppy playdates thrown in with a match show on Saturday, and a good training session yesterday. I rented this local training facility by the hour for the first time, and it was soooo nice to be able to train inside, with A/C, and no squirrels or birds! We've struggled after growing up training inside on the east coast and then moving to California where everything is outside. It's been especially hard given Lucy's prey drive and desire to chase anything that moves. I will never make the same mistake of not focusing enough on outdoor training at a young age.
I'm happy with how she is progressing, although it's definitely a work in progress! It's been a while since I took any video of our training, and when I do, I always find it's so helpful to see all the things I need to focus on to continue to improve.
There was a little 1/2 wall at this place so I was able to put my camera on there and hit go to start the video running. Not the best video and next time I'll know better where to stand so we are actually in the video (ie in last video)! LOL.
Here's a few of our videos for anyone interested in watching.
Heeling practice: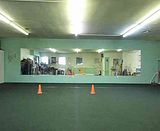 Figure 8: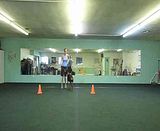 Recall: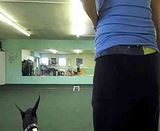 Dumb bell retrieve (kinda hard to see, but we are in the mirror...) And my tosses stink! Poor Lucy had to dig the dumbbell out of a pile of jumps in the 2nd throw:
Thanks for watching! And feedback and suggestions are always welcome.