Well I suppose I will post this here as it is about dobes partly. Thought I'd post some pictures of what I've been up to dog-wise recently. I did two more adoption events for my local shelter as well as two more transports. Also took Strike to the park and the beach a few times but I figured those pics would get repetetive and starting a bunch of threads so I just waited to post 'em all at once. I'll post them in the order they took place.
Here are some pictures of Strike at the park. There was a nice sized little lake from the rain the night before.
The I let him go on the playground.
Its been a while since my last vid, so I made another one including shots from the beach. Youtube makes it hard to see tho so smaller screen might be better.
http://www.youtube.com/watch?v=qH7qUBLy6ls
Last saturday, a very successful adoption event. I took an AWSOME GSD. He was sooo super calm and relaxed. Never once pulled on the leash and very dog and people friendly. His name was "big boy" and he was def very tall. He got adopted the next day.
The day after was my second transport. The world's fattest doberman- distustingly overweight. This is neglect. 120lbs when he should have been 80. 40lbs of fat. I cant imagine what that must be doing to his hips, much less his heart!!!! and he was about 8 years old and needs surgery but they cant do it until his weight is down. Im not kidding you his body was like a square... looked like he swallowed another doberman! I drove him to his fostermom on Sunday and this friday she adopted him!!!
I'll spare you the pictures of the rest of his body.
Max, AKA "Maximum Overload"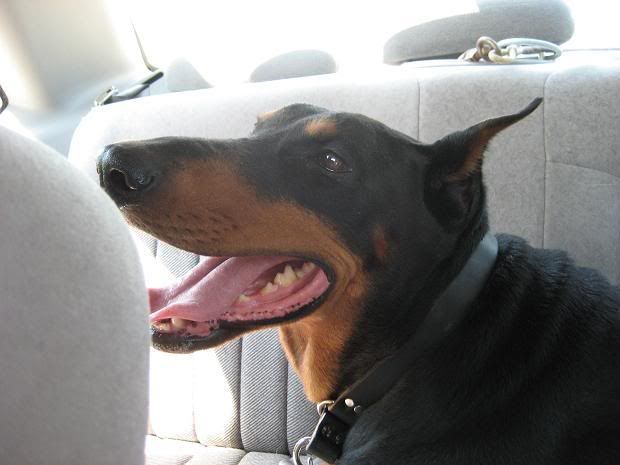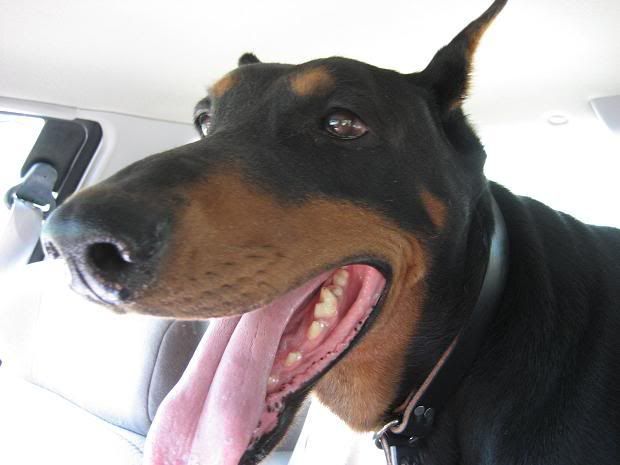 Then on Wednesday it was another adoption event and again I spent time with GSD's. These two are brother and sister who spent there whole lives so far (they are 3) in a backyard. They are skinny and filthy but sweet. They must be adopted together because they literally cant even be 10 feet away from eachother. Its gonna be hard to find someone to adopt them, but every other dog we've taken an event this summer has been adopted, so we are keeping our fingers crossed!
Lady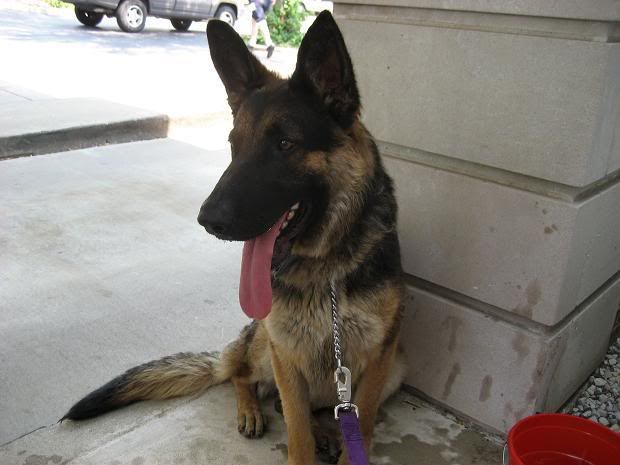 G-Man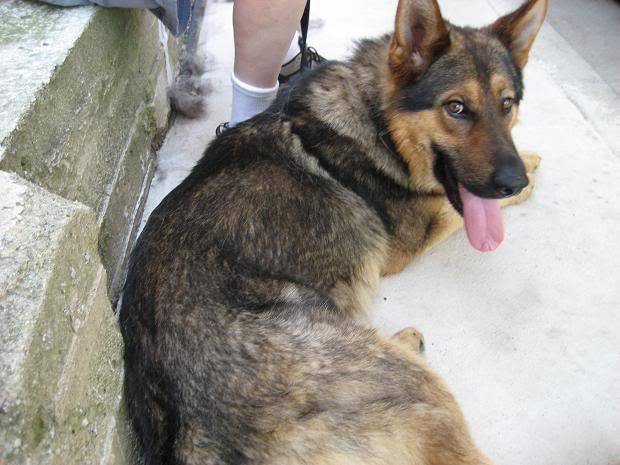 And today, my 3rd dobe transport. A red girl who was probably used a puppy maker. Very sweet girl, wish I could of kept her!
Soleil (pronounced So-lay)