New Member from (near) Richmond, VA
---
Excited to find the forum. Had a wonderful Doberman that passed earlier this year. Best buddy I ever had and great dog. Probably looking at getting a pup later in the year and looking forward to learning a lot from the forum. Thanks.
Bazinga!
Join Date: Dec 2011
Posts: 4,534
Location: Nb, Canada
Dogs Name: Tank and Sienna
Titles: SD-S-SP, SD-S-SP
Dogs Age: 5, 1

Gallery Pics: 8
Visit SieYa's Gallery
Thanks: 14,659
Thanked 11,747 Times in 3,578 Posts
Welcome
---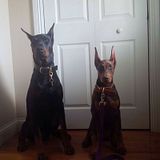 I've known no deeper love, than that from my beloved Doberman
Think the crap in your kibble is good? Check it out
http://www.naturalnews.com/Report_pe...edients_2.html
Super Moderator
Join Date: Dec 2007
Posts: 18,019
Location: North Cental PA
Dogs Name: RIP Briarwood Utopia v Exacta (Miley); RIP Briarwood Ariki v Exacta (Baron)
Titles: Baron-CDX, CD, RE, RA, RN, CGC
Dogs Age: 12 Years, 9 Months, 14 Days; 12 Years, 1 Month, 22 Days

Gallery Pics: 29
Visit dax0402's Gallery
Thanks: 48,222
Thanked 27,655 Times in 12,398 Posts
Hi and welcome to the forum. So very sorry for your loss.
Alpha
Join Date: Jan 2008
Posts: 8,167
Location: Winter Park, Florida
Dogs Name: Dax: NW Elite-1, NW3 Elite, CGC (AKC S.T.A.R Puppy) VIR RIP Roxy (CGC, TD Inc.), Kyra, Tigger
Titles: Dax: NW Elite-1, NW3 Elite NW3 Titles in Exteriors, Interiors, Vehicals, Containers
Dogs Age: Dax, born 12-19-14 VIR born 1-14-18

Gallery Pics: 0
Visit dobegal's Gallery
Thanks: 16,548
Thanked 9,472 Times in 5,357 Posts
Hi and welcome to DT. I am sorry to hear about your loss
Always Grateful
Join Date: Nov 2007
Posts: 6,947
Location: Durham, NC
Dogs Name: Mercury's Prince of the Universe (Boon)
Titles: CFFII,NW1, NW2, NWE1, CFFIII, CFFIV
Dogs Age: 12/29/12

Gallery Pics: 22
Visit triciakoontz's Gallery
Thanks: 9,005
Thanked 12,656 Times in 4,151 Posts
Welcome to the forum! There is a lot of great information on here about finding a reputable breeder. Check out the stickies in the breeder forum. So sorry to hear about the loss of your best buddy. We'd love to see photos if you feel like sharing.
---
THE BOONDOGGLE