My Dobe and cats
---
Our dobe is nearly 1 years old. And we still cannot stop him from chasing and dragging our two 5 year old cats. We have tried scolding him and reinforcing good behavior but nothing seems to work. Any suggestions?
I have a 1+ year old Doberman who also likes to chase my cats. He's trying to play with them and they don't want to play, and they don't regard him as "fun". He hasn't ever gotten hold of one tho.

For starters I recommend you fix an area that the cats can get away from the dog so he won't get hold of them. I have a baby gate up between the living room and the hallway that leads to the bedrooms. If the cats really want to get away from the dog they leap the baby gate and disappear and he's left behind.

I think it's also a good idea to "introduce" your dog to the cats one at a time. Doing such things as having a cat in a small crate while the dog's loose in the house for an hour or two, so he gets used to them being around while he can't bother them. If he tries to bother them even tho they're in the crate he can be corrected. You can put him on a leash and let one of the cats at a time be loose and if he makes a move toward them, give him a leash correction. My dog hates being squirted with a water bottle, which is another deterrant you can use. But I like the leash idea for at first, until he learns that the cats are a "NO" for him. If he doesn't know any obedience commands, teach him ASAP. Also make sure he's getting enough exercise. Part of the problem with young dogs chasing cats is they have excess energy to burn and wan to "play" with the cats. I wouldn't let him be loose with the cats until he's been trained to leave them alone, at least on your command, so if he starts for them you can stop him with a command.
Alpha
Join Date: Aug 2005
Posts: 3,593
Dogs Name: Duchess
Titles: CGC,TDI
Dogs Age: 7

Gallery Pics: 50
Visit LapDog's Gallery
Thanks: 28
Thanked 120 Times in 81 Posts
Duchess use to chase the cats when she was that age...but usually I think it was the cats that ran away from the dog that caused the chasing...not really Duchess just trying to get to them. Now she is 2 and for awhile she has left the cats alone...mainly because they stopped running away. Now one of our cats lays down on the couch with the dogs and the other that was VERY skiddish around the dogs can live a normal life cause they are both now use to the dogs.
---
...
---
Quote:
Originally Posted by micdobe
I
For starters I recommend you fix an area that the cats can get away from the dog so he won't get hold of them. I have a baby gate up between the living room and the hallway that leads to the bedrooms. If the cats really want to get away from the dog they leap the baby gate and disappear and he's left behind.
We have one of the bedrooms gated off for the cats so they can have a safe haven.
Frisco knows several commands (sit, stay/wait, leave it, drop it, etc) But it is just something about the cats that gets him going. He can be totally asleep but once he hears one of them moving around the living room and he is up and chasing them and won't listen to my commands.
I think I will try the crate method and get him used to them being around more.
My guys are pretty good about leaving the cats alone in the house, but as soon as they go outside it's a different story. Now the cats line up at the gate and taunt the dogs. They even curl up to sleep right next to the gate so that their fluff is inside the yard. The dogs can't stand it -- they whine and pace. Inside the cats try the same snotty behavior, just teasing the dogs, but the dogs really don't pay any attention to them.

When each of the dogs was little I let the oldest of the cats "train" them not to bother him. It seems to have done the trick.
---
"The miracle isn't that I finished... The miracle is that I had the courage to start."
John Bingham
I tried to get Frisco trained to the cats when he was smaller but the cats are declawed, so he soon found out that their swatting didn't hurt lol.
That's why *you* have to be the one to make the corrections, not the cats. It's not fair to the cats to be treated like that. My first cat was only 3 weeks old when I found him and brought him into a household with 2 Dobermans, one 11 years, one 18 months, and three Italian Greyhounds. The older Doberman seemed to like him, the younger Doberman was very excited by him and wanted to "play" with him and the IGs simply wanted to kill him, because that's what their bred to do, kill prey, and he looked like prey.

I worked thru this with each dog one at a time. The kitten was frightened of the dogs and I kept them separated most of the time. When I did have them together I started with the gentlest dog, the older Doberman, and when she was reliable with the kitten I went to the next dog. What I did was bring the kitten out of "his" room into the living room and kept the dog on a leash. If the dog lunged at the cat s/he was corrected with a pop on the leash and a verbal command. I was serious about it as they could have easily killed the kitten and I think you have mean business and make sure the dog knows you mean business.
Alpha
Join Date: Feb 2006
Posts: 8,069
Location: Delta, British Columbia
Dogs Name: Jasmine, Cash,
Titles: Cash-IPO1,BH,TT,CGN, Jasmine-BH
Dogs Age: DOB: 07/06/06-04/29/09 RIP

Gallery Pics: 10
Visit Okie-dobie's Gallery
Thanks: 13,188
Thanked 12,008 Times in 3,772 Posts
Most of the time the cat is in another area of the house. She can come out when she want's to and sometimes does. Jasmine will paw at her but I do not allow this to continue. Jasmine will sometimes just leave the cat alone, of course this is normally when she has a bone. Smokey will sleep on the back of the sofa and Jasmine will not even know she is there.
Alpha
Join Date: Mar 2006
Posts: 3,942
Location: Room of Requirement
Titles: CD RN WAC CGC
Gallery Pics: 0
Visit Dobesanddragons's Gallery
Thanks: 1,474
Thanked 3,491 Times in 1,453 Posts
I agree with Jessica.

I don't think it is fair to let them "work things out" themselves to the poor stressed out cats. Your dog's behavior will only get worse and more annoying.

Do your cats have a safe place, like a room where they can go sleep or hang out in peace and comfort? If not, I suggest using a baby gate and making a room or laundry room area or something you "cat safe haven" type of place. Even better if the place has a window or two.

Your Doberman needs to be trained not to put his mouth on the cats ever. This means supervision whenever the cats are up and about, all of the time.
Yes, it is work, but worth it and can be done.

I had to use a leash and verbal commands with one of mine to train this, and the training went on for months, the other went thru phases, but is great all the time now.

I trained them not to chase the kitty and never to hurt her. The more they ignore her, the better. They get rewarded for being good.

She can hurt them with her claws, which I keep trimmed weekly, but it is my responsibility to make sure she is not abused, it is not up to her, she is only 5 lbs, the dogs are much more.

We also have cats that visit and this training carries over. The inside kitty is not a personal play toy, and I don't let them treat them as such.

If you google cats and dogs or dog and cat training or something to that effect you will also get helpful advice in how to handle the situation.
Alpha
Join Date: Apr 2006
Posts: 3,571
Dogs Name: Harmony, Asher
Gallery Pics: 0
Visit DreamDoby's Gallery
Thanks: 149
Thanked 232 Times in 159 Posts
I always have a "safe zone" for my cats. They know where they are and so do the dogs. I have my bedroom gated so they can stay away from them if they want to. The dogs also know that if the cats touch the cat tree, that is safety and they are done playing.

When mine were younger, they loved to play with them and chase them. Sometimes my cats would initiate it and want to play with them. They still like to play, but when it gets out of hand, a no and leave it gets them out of it. That doesn't happen very much as they get older. The cats curl with them and look out the same window with them. They have more issues trying to see through the cats out of the windows.

I would work on obedience and if the verbal commands don't work, use the leash like mentioned above. It does take some work, but they should be able to live together peacefully.
---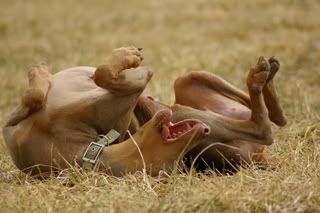 "A dog is like an eternal Peter Pan, a child who never grows old and who therfore is always available to love and be loved." - Aaron Katcher
We were very lucky with Hobbs (our old cat) and introducing him to the puppies. For the most part the pups didn't pay attention to him, but if they decided to check him out we watched to make sure he didn't get hurt. In almost every case he would be sweet to the pup for a few minutes, then turn and give them a swat. The pups learned to leave him alone. It also helped that we crated the pups when they weren't being supervised so they couldn't get into too much trouble.

I wouldn't leave a kitten with my dogs even today, though they're good with adult cats.
---
"The miracle isn't that I finished... The miracle is that I had the courage to start."
John Bingham
just a member
Join Date: Jul 2005
Posts: 2,996
Location: DC Area
Dogs Name: Alexis & Zoe
Dogs Age: 6 years & 5 months

Gallery Pics: 49
Visit Kratty's Gallery
Thanks: 455
Thanked 2,443 Times in 595 Posts
Persistent and consistent corrections will work. At first everytime my girl would chase our three cats evertime they ran. A verbal correction , at first and then an immediate time out for 30 seconds. It took some time but it will work. Once the cats became comfortable around the dog, they don't run anymore and if they do run, no chasing .

I started out treating the cats as higher pack members than my girl. It seemed to help. At feeding time, the cats get feed first and then the dog. At goody time, the cats get them first and then the dog. We have to give one of the cat her teats on the floor. Nikki will wait until that cat walks away before going to see if anything is left to eat.
---
"Never sweat the petty things, and don't pet the sweaty things" - George Carlin
Dobiegirls Videos