Guardian
Rou likes to carry things while we are on a hike. For the most part, if I hand him a stuffed toy, he will hold it for the duration of the hike.

Is this of any relation?
Always Faithful
Join Date: Apr 2011
Posts: 622
Gallery Pics: 18
Visit BenVera's Gallery
Thanks: 2,152
Thanked 1,249 Times in 380 Posts
Wow, Spock reminds me SO much of Levi. I swear they could be brothers. When I see pics of Spock you've posted, they look almost identical. And Levi suckled blankets his whole life. He was particularly fond of a velour robe I had. He would pull it off the door hook and take it into another room where they could be alone together.
He would form it just like Spock is doing in the picture below. I definitely suspect he had OCD, in addition to other physiological/psychological issues. *sigh*
Quote:
You should check out this previous extensive thread on blanket sucking:
Blanket Sucking and OCD
Spock & Eva both still occasionally suck, but only to throw rugs, the long pile kind. We solved the problem in master bedroom by getting the flat type berber type throw rugs which they don't suck. However we still have the long pile throw rugs in the master bathroom which both dogs love to gather in their paws and suck, if given the chance!
We did let Spock suck a light blankie recently when he had two abrasions on his back left leg and was licking them excessively. We gave him the blankie to sleep with overnight (next to our bed) to divert his attention away from the injuries. It worked and he healed completely with hair regrowth in 2-weeks!
Eva & Spock did have a bout with chewing holes in stuffed dog beds but we now use Ray Allen Bitesuit Syntek beds and have one Costco stuffed bed they both love to use (when "Uber-Alfa" Lillah isn't using it) They only sleep on the large stuffed bed when under supervision.

Spock Sucking a Nice Plush Throw Rug!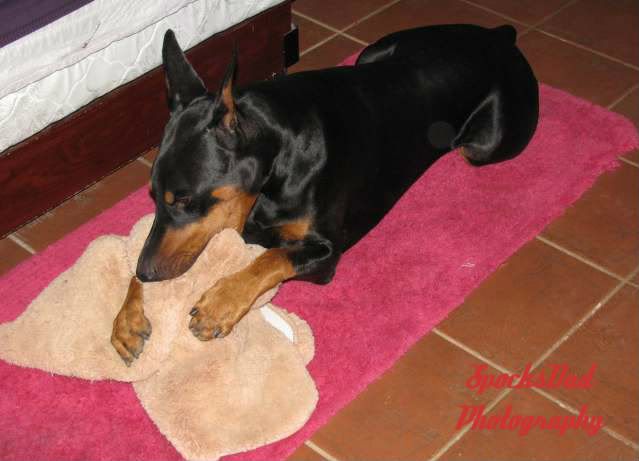 Eva (bottom) & Spock on Doggie Beds This Morning
(Notice Flat Berber Type Red Throw Rug Beneath)