Banned
Join Date: Dec 2008
Posts: 3,463
Gallery Pics: 0
Visit astra's Gallery
Thanks: 10,167
Thanked 8,976 Times in 2,745 Posts
HSUS Shelter Spending by State
---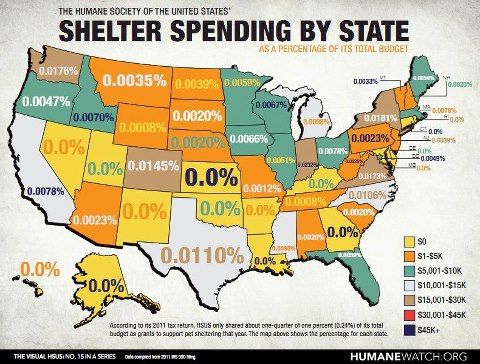 | | |
| --- | --- |
| The Following 2 Users Say Thank You to astra For This Useful Post: | |
Paralibrarian
Join Date: Jan 2011
Posts: 6,142
Location: CNY
Dogs Name: Elka
Titles: NTD
Dogs Age: DOB 5-16-09

Gallery Pics: 1
Visit GingerGunlock's Gallery
Thanks: 22,844
Thanked 11,673 Times in 4,800 Posts
Well. Isn't that sad.
---
| | |
| --- | --- |
| The Following User Says Thank You to GingerGunlock For This Useful Post: | |
Alpha
Join Date: Sep 2006
Posts: 16,048
Dogs Name: Sunburg's Indian River Park "Parker"
Dogs Age: Born May 24, 2007

Gallery Pics: 25
Visit LindaH's Gallery
Thanks: 24,917
Thanked 24,132 Times in 9,831 Posts
That's because they spend so much running those tear jerker abused dog/puppy cat/kitten adds soliciting more money to put in the bank and draw interest to pay the higher-ups salaries.

I change channels or mute those adds as they p!ss me off big-time!!!
Alpha schmalpha
Join Date: Aug 2012
Posts: 1,946
Location: Florida
Gallery Pics: 1
Visit alan j.'s Gallery
Thanks: 3,839
Thanked 3,648 Times in 1,366 Posts
i am with you on changing the channel.
| | |
| --- | --- |
| The Following User Says Thank You to alan j. For This Useful Post: | |